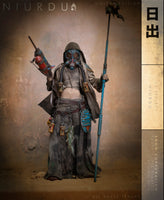 PRE-ORDER 2ND RUN
NIURDU..
Due to an amazingly quick sell out in the first ten minutes of pre-order going live, I extended the run... which sold out again I have decided to do two complete full runs which means I have added a few more... good luck and thank you all.....
Don't forget to subscribe to my YouTube Channel...
The deposit is all you pay right now with the shipping, then you will receive a PayPal invoice once a month until the figure is paid off. Any question please just ask... for more picture please refer to my Facebook and instagram pages..
Cheers
Dorgs
13PROJECT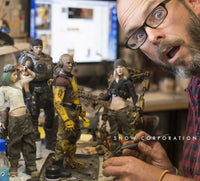 The Snow Corporation
 I am a UK based custom Limited Edition maker of action figures.... I do everything in house... design, paint, weather, package, build, promote, photograph run the webstore and website, all the social media and shipping, but love a good chat... so if you ever have any questions drop me a message I will always make time to chat to folks......
I run two main figure lines... The 13 Project, a scifi post apocalyptic story, set in a harsh future world.... And the Blind Prophet Saga set in an ancient  fantasy world of flying yunks, god Emperors magic and deceit.....
About Dorgmal Snow
Dorgmal Snow
I started out in illustration and graphic design then became a teacher of colouring in and a freelance web designer...
 Got in to collecting 1/6 figures but got tired of waiting for new figures to come out so designing to my own customs.
 Finally I started to make my own figures based own my own ideas and concepts producing two different lines, 13 Project and the Blind Prophet Saga......